Blues Dance Lesson & Dance
Pasadena, CA

**QUARTERLY AS OF JANUARY 2020**

Next Dance (Spring)
Friday May 29 — Soul Night

Save The Date  (Summer)
Friday August 28

Blues Dance Lesson & Dance
Pasadena, CA

Now Quarterly (unless otherwise noted)

Save The Date For the Spring Dance
Friday May 29 — Soul Night
Starting in January 2020, do Something Blue Is Quarterly
Starting January 2020, after 13 years of hosting do Something Blue on a monthly basis, our team has chosen to transition it to a quarterly event (Winter, Spring, Summer, Fall).
As the operators of the longest running blues dance in Los Angeles who whole heartily enjoy sharing our love of blues dancing with the community, this was a rough decision. Ultimately we hope it will help build and fuel Los Angeles' dance community's excitement for this beloved social dance style. After all, who's to say we don't return to monthly?
Since hosting it quarterly is a new format for us, we appreciate your patience as we determine the specific dance dates. When dates are decided, you'll find them here. Of course, we hope to see you at our Spring Dance, Friday, May 29 — Soul Night!
To stay up to date,
Subscribe To dSB's Newsletter
Get info about where to blues dance in and around Los Angeles straight to your inbox every month.
Interested in Private Blues Dancing Lessons?
Focus on Your Specific Goals
Advance Your Skills Quickly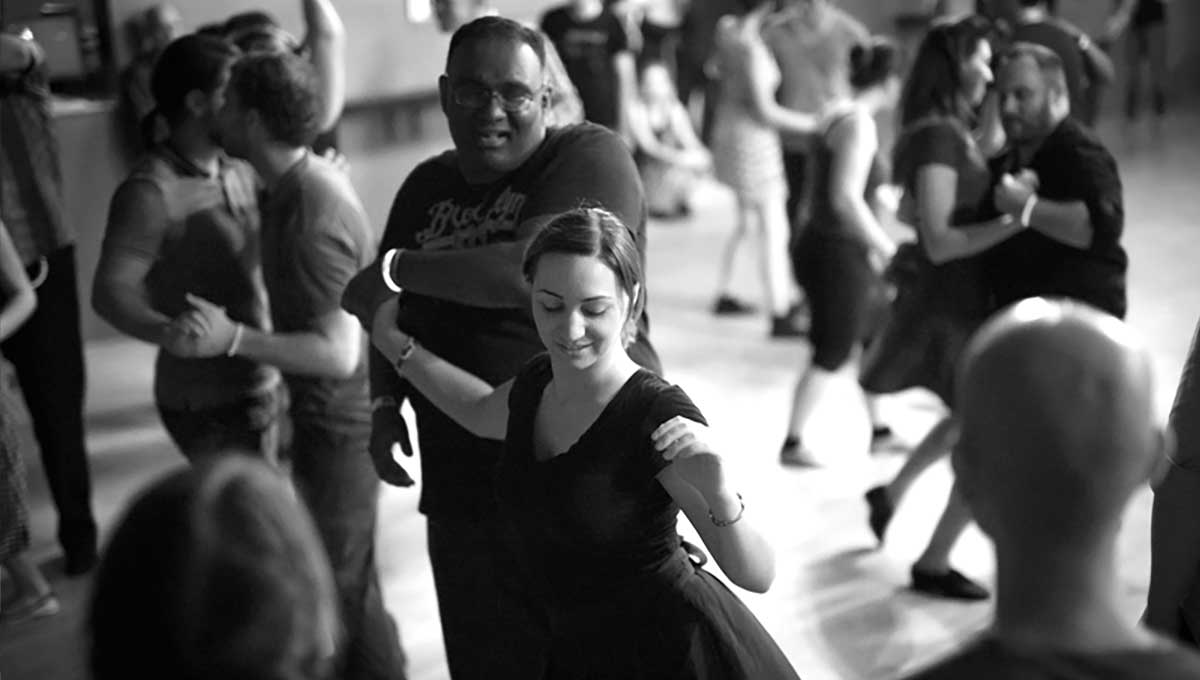 NEXT DANCE
Friday May 29 — Soul Night
Spring Dance
All attendees are expected to respect and abide by do Something Blue's Code of Conduct, including it's Safe Space, Dance Etiquette, and Safety Policies. It is displayed at the front desk nights of the blues dance and is available at
http://dosomethingblue.com/faq/#policies
.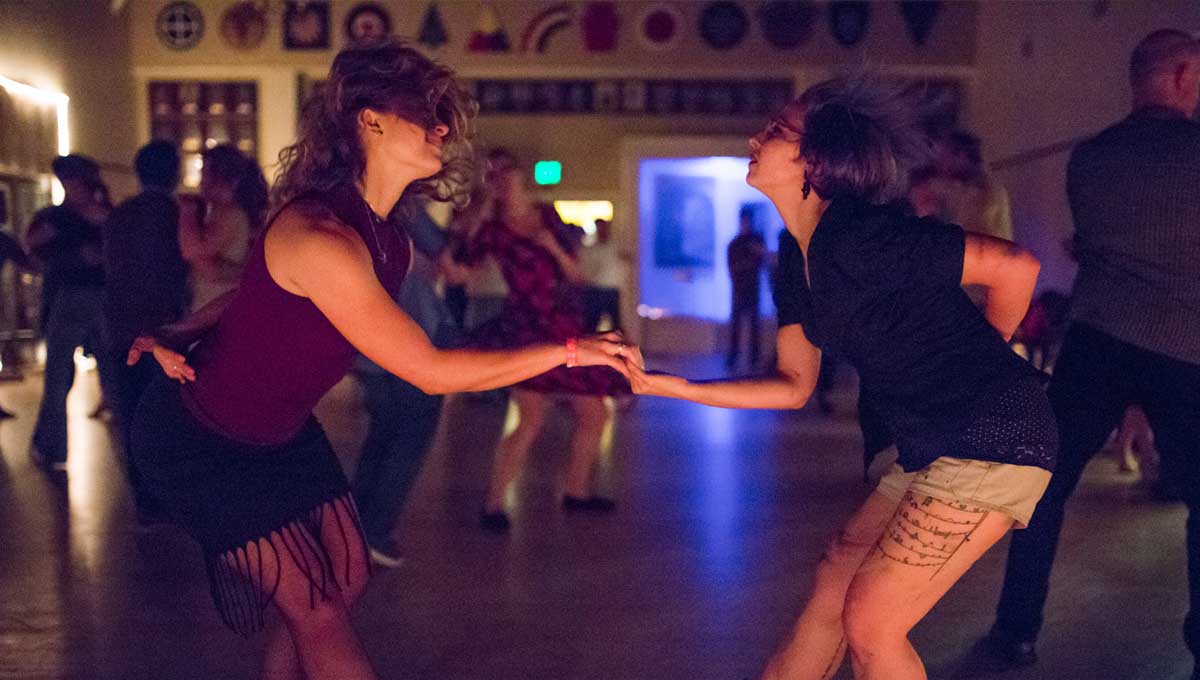 COVER
$12*
No Bills Larger Than $20 Accepted.
*This is the new cash discount price. Full price (using Credit/Debit) for entry is $13.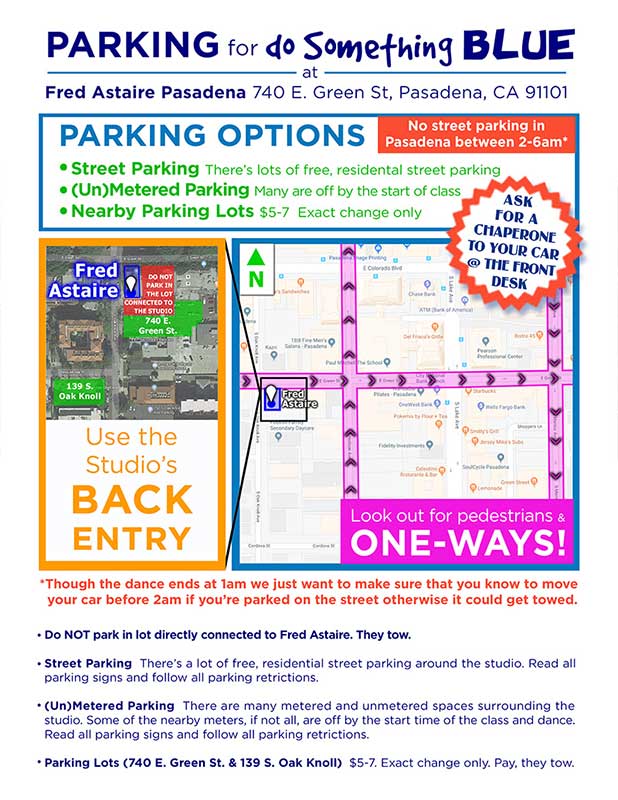 Do NOT park in lot directly connected to Fred Astaire
These spaces are rented by building tenants 24/7 & the management company does come check for permits. They tow.
Do Utilize Street Parking
Many metered & unmetered spaces surround the studio, including residential streets. Some, if not all (?), of the meters are off by the start of the blues dance (lesson). Read all parking signs & follow all restrictions.
Do Use The Nearby Parking Lots
Even though you can't park in the lot directly connected to Fred Astaire, there are many other nearby options. The prices vary between $5-7. Exact change only. Make sure you pay. They tow.
Do NOT Park Overnight
Note: NO street parking allowed in Pasadena between 2am-6am.
Great Music – Fun people – good dancers — Highly recommend this event!

The music is more bluesy than other blues events I've been to in LA. I went there with some friends and we had a good time, the organizers are very approachable and helpful.

Best blues dance that I know of in SoCal. Good DJ's, good ambiance, friendly people. Class included, which is always fun.

My favorite place for good blues music and great blues dancing. Love the people and Tracy the organizer is an amazing person.

THE place to go and learn to blues dance and/or just to dance to great blues music! Love, love, love coming here! The music, the people, the atmosphere and the overall experience is a fantastic time every time!!
Private Blues Dancing Lessons
Private blues dancing lessons are available at the dance as well as at other times and locations in and around Los Angeles (at the instructor's discretion).
At The Dance
Mini-privates are available during and after the group lesson on a first-come, first-serve basis. Payment is due in order to reserve your slot. Find out more at the front desk the night of the dance.
Outside the Dance
To inquire about private blues dancing lessons at another time and location, please complete the -Request Private Blues Dancing Lessons- form. Want to save money? Gather some friends and make it a group private for the same price. Max of (6) participants.
How To Inquire About Private Blues Dancing Lessons
1. Request Private Lesson
Fill out the private lessons request form to let our team know about your blues dancing goals so we can pair you with an instructor.
2. Complete Payment
Mini-Privates: Payment due when scheduling lesson at the dance. Outside Privates: Payment coordinated with your instructor.
3. Schedule Private Lesson
Once your payment has been received, your private lesson is confirmed and you're one step closer to learning how to blues dance. Woohoo!
Request Private Blues Dancing Lessons
After you submit this form look for an email from dosomethingblue@dosomethingblue.com. It will include information about what's next, like scheduling a brief phone chat so your instructor can learn more about your specific goals. This is at no cost to you and allow me the opportunity to address any questions you might have about private blues dancing lessons.
Make sure to **Add dosomethingblue@dosomethingblue.com to your Safe Sender list**.
Follow do Something Blue On Instagram
This error message is only visible to WordPress admins
Error: No posts found.
Make sure this account has posts available on instagram.com.